In conjunction with International Human Rights Day (IHRD) 2021, the Centre for Independent Journalism (CIJ) launched the Freedom of Expression (FOE) Status Report 2021 today (11 December 2021). The report provides an overview of the state of freedom of expression (FOE) in Malaysia this year.
It illustrates how external factors such as COVID-19 and a nationwide emergency proclamation played a significant role in undermining our FOE. It also includes thematic policy observations, analyses, and recommendations for the State to consider to better protect and uphold our basic rights.
We observed, through our media monitoring, both pandemic or vaccination related postings or sentiments that were sceptical, brazen, critical, dissenting, and satirical – valid forms of expression – as well as the more serious violations such as making provable false claims, threats to another's life, security or wellbeing and expressing hate speech.
We strongly believe most of the cases in the former category did not warrant investigations and some actions by the State were unwarranted, excessive, and disproportionate in maintaining public order or peace.
We based this analysis on our understanding of the scope of the various laws used, laws that are largely restrictive and oppressive in nature. This then gives rise to the potential for misuse and abuse of power from the State when all manner of criticisms can be easily regarded as "seditious" or "fake news", for instance, and lead to a shrinking of democratic spaces.
Throughout 2021, CIJ observed and monitored a sharp increase in the usage of oppressive legislation such as the Sedition Act (19 cases) and Section 233 of the Communications and Multimedia Act (CMA) (140 cases) to silence dissenting opinions and expressions. We also saw a rise in the use of Penal Code Sections 504 (32 cases) and 505 (35 cases).
On average, there were more men than women who were implicated. In terms of age, we observed cases involving most age groups – from youths below 25, adults up to 50 and senior citizens up to 69 years of age – thus showing the full extent of the use of State instruments.
Besides that, we noted arrests, interrogations, and investigations were not predominantly focused in cities like Kuala Lumpur, but also in various parts of the country, including rural areas.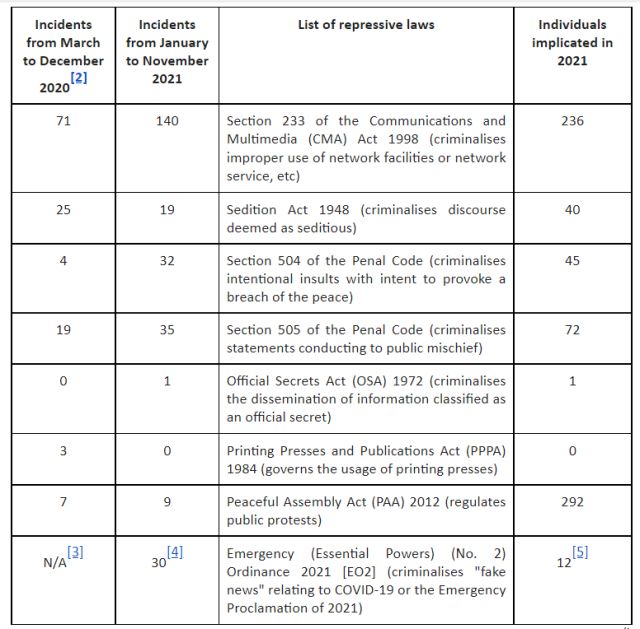 The following categories of persons were specifically targeted:
1) Threats against human rights defenders
We recall how activists were investigated for attending peaceful solidarity meets and alleged Movement Control Order (MCO) breaches this year. This includes organisers and participants of the "Buka Puasa Buka Parlimen" gathering; various #LAWAN initiatives; the activists who were hauled in for questioning over the Labour Day gathering, amongst others
2) Artists, including graphic designers, filmmakers, illustrators and cartoonists
On 2 July 2021, Freedom Film Network (FFN) co-founder Anna Har and animator/artist Amin Landak went to the federal police headquarters in Bukit Aman to have their statements taken in connection with the film, Chilli Powder and Thinner.
They gave their statements to the police later that day but nevertheless, the police still raided the FFN office and Amin's home. While graphic artist, Fahmi Reza, and cartoonist, Zulkiflee SM Anwar Ulhaque or better known as Zunar, continue to be targeted for their work.
3) Media
The media environment continued to be restricted and in February we saw the infamous Federal Court ruling that found Malaysiakini guilty of contempt of court and the news portal was fined RM500,000[1]. The decision posed multiple implications for the media, online portals in particular.
Then followed Malaysia's deterioration in the annual Reporters Without Borders (RSF) press freedom index in April. Malaysia's press freedom index moved down 18 places to 119 (out of 180 countries ranked).
As was the case last year, the media experienced restricted access to Parliament and official high-level briefings by senior ministers which were mostly restricted to only "official" State-owned media.
We hope that the launch of this report leads to more public awareness surrounding the state of FOE in Malaysia and our challenges in impacting change, and actual change from the State. We also hope and strongly urge the government of the day to seriously consider our recommendations and work towards implementing the various reforms we have suggested.
We stand ready to work with the government to push these reforms through, alongside our civil society partners and friends, and collectively bring about change and better enshrine our rights in law and reality, for a better Malaysia, a true Keluarga Malaysia.
Let us end with a positive note. Yesterday, in a recorded statement during a Right to Information (RTI) forum, Minister in the Prime Minister's Department (Parliament and Law) Datuk Seri Wan Junaidi Tuanku Jaafar reiterated the government's commitment towards adopting new legislation on RTI in a move to promote transparency and open data.
The RTI forum was co-organised by CIJ, the Legal Affairs Division of the Prime Minister's Department (BHEUU), and the Human Rights Commission of Malaysia (Suhakam) in conjunction with International Human Rights Day.
——————
Writer is CIJ Executive Director.
---
[1] The case revolved around third-party comments made by Malaysiakini readers on a story published on the news portal that were deemed as offensive to the judiciary. Malaysiakini was found to be guilty under Section 114A of the Evidence Act (Amendment) (No.2) 2012, which presumes Malaysiakini as the publisher of the impugned comments in question.
[2] Data was collected from March 2020 onwards as it marked the first change in government following the 2018 polls. Prior to that, FOE violations were not as rampant as they are now.
[3] EO2 was only introduced in 2021.
[4] This is the official figure by the State, and which CIJ was unable to capture fully in its media monitoring work (only 12 cases).
[5] This figure does not include the individuals implicated in the State's 18 other EO2 cases, which are not public knowledge.